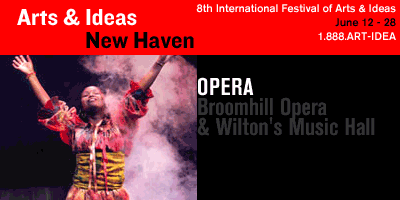 The Challenge
The 6th, 7th and 8th International Festival of Arts & Ideas showcased over 3,000 exhibits, performances and attractions. The two-week festival drew thousands of visitors to the site and needed to realy programming information, ticket availability and general information.
The Result
Integrating a custom admin area, the festival staff was able to upload up to the minute information about each event, with immediate impact on the site. Our goal was to present an astounding amount of information in short blocks, that visitors could discover along three different paths; name, type and date. Each event profiled the event, and included links to artist bio, website and venue location.


The front page features a rotation of the headline events staged, with links to putrchase tickets or obtain more information. The front page also included an area for breaking news and a countdown until the festival start. A popular feature of the site was the review feature which allowed visitors to rate events or the entire festival on a 1-5 star scale.